Golmud is a city in the Qinghai province, south of the central Qaidam Basin. It boasts being the third largest city on the Qinghai-Tibet Plateau with a surface area of 48,100 square miles, but only an urban area of 28 square miles. It sits at an elevation of 9,216 feet above sea level.
Golmud is a sub-prefecture level city, meaning it has a county-level designation in The People's Republic of China. Golmud has a population of over 200,000 Han Chinese, Mongolian and Hui people. The Mongolian meaning of Golmud is "a place abundant in rivers".
Up until the 1950s, Golmud was not really a city at all, but a pass-through for Mongolian herdsmen. Chinese General Mu Shengzhong was commissioned by Mao Zedong to find out if there was a possibility of putting a railroad on the Qinghai-Tibet Plateau.
After a long journey through the desert with his troops, General Mu Shengzhong abruptly named the area Golmud when someone inquired about an area of abundant rivers that they had not yet found. Established in 1954, Golmud existed for most of the time as a military transportation base and has only recently become a railway town.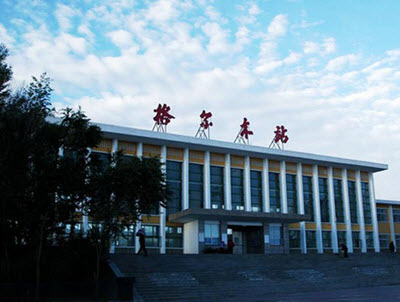 Officially, Golmud became the young city that it is on June 14, 1980. Mostly populated with immigrants, it is a city with 90% of its population from outside of Golmud. For most of its existence, Golmud has been a stop along China Highway 109 from Xining to Lhasa.
The Qinghai–Tibet railway construction reached Golmud from Xining in 1984. After numerous setbacks and struggles to continue the railway on to Lhasa, construction finally started in 2001 and took 5 years.
It was 5 years of great economic growth for Golmud, changing the city into a hustling, bustling place to live. There was now a railroad spanning the treacherous but beautiful rooftop of the world.
In 2012, construction for the Golmud-Dunhuang Railway began. The most recent railway construction addition was the Golmud-Korla Railway, running west from Golmud to the Xinjiang Province.
There are great natural resources to be found in and around Golmud. The salt lakes that surround the city total more than 20, varying in size. Golmud boasts having the largest inland salt lake in the world. Qarhan Salt Lake sits in the northeast section of Golmud and is a treasure trove of natural resources.
It has been said that there is an estimated 15 trillion yuan worth of resources in magnesium, potassium and salt in the lake. It is no surprise that China has plans to make Golmud its very own Salt Lake City.
Golmud also possesses natural gas reserves of 35 trillion cubic feet. There are rich deposits of gold, copper, lithium, boron, crystal, lead and zinc. Industries like petrochemicals, oil refineries, and gas fields are also a major player in the economy.
The petroleum deposits alone are a reported 30 million tons. In addition to that, Golmud has high quantities of jade and other precious stones, making the mining industry and opportunities plentiful. With Golmud having 20 rivers that run throughout the land, it has great potential for the hydropower industry as well.
Near Golmud is The Wan Zhang Salt Bridge. It is a beautiful saline sight spanning the Qarhan Salt Lake, which happens to be 100% salt. It is really not a bridge at all, but a beautiful jade green stretch of the road that leads out of Golmud towards Dunhuang. Although flat like a road, it is just piled up salt over the lake with depths between 15-18 meters, spanning a little over 100 feet.
Regardless of its small role in history, Golmud is rich in natural resources and potential. According to the Chinese, the future is as bright as its gleaming salt lakes.